Cucumber Downy Mildew Confirmed in Buncombe County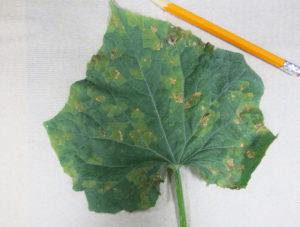 Vegetable growers! This is an update on downy mildew in cucurbits from Inga Meadows, NCSU Extension Plant Pathologist.
Cucumber 
downy
mildew
 was confirmed in Buncombe County, NC today. Chris Leek first observed the disease on July 5 in an organic, commercial field of cucumber.
See pest alert for more details. Feel free to share this email.
If you find any DM on another host or in another county, please contact me and provide a sample.
Thank you!
Inga
IPMPipe
: Here you can track where 
downy
mildew
 has occurred.
____________
Inga Meadows
Extension Plant Pathologist – Vegetables & Herbaceous Ornamentals
NC State University
Mountain Horticultural Crops Research & Extension Center
455 Research Drive, Mills River, NC 28759