Commissioners Food Safety Forum, Registration Link!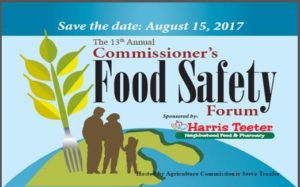 Commissioner Steve Troxler cordially invites you to attend the 13th Annual Commissioner's Food Safety Forum on Tuesday, August 15th from 9:00 a.m. until 12:30 p.m. in the Expo Building at the NC State Fairgrounds.
Please visit this link to register. http://www.ncagr.gov/ncfoodsafetyforum
Please contact Derek Wagner at (919) 707-3011 or derek.wagner@ncagr.gov for more information.