Vegetable Production Update-April 27, 2018
Find this article at:
go.ncsu.edu/readext?524828
From Dr. Amanda Scherer (Postdoctoral Research Scholar, Plant Pathology, Tomatoes) and Inga Meadows (Extension Associate, Plant Pathology Specialist)
Background: The information presented in this vegetable production update contains a summary of the details discussed in the one-hour, biweekly vegetable production conference calls entitled Veggie Calls. These open forum sessions were developed to allow extension personnel (agents, area specialized agents [ASAs], and specialists) to discuss challenging cases, seek advice on recommendations, report emerging issues, and share training opportunities related to vegetable production. These calls are hosted by Inga Meadows, Dr. Amanda Strayer-Scherer, and/or Dr. Lina Quesada-Ocampo every two weeks throughout the vegetable production season.
Attendees (description) of the April 27th Veggie Call: Mary Jo Brennan (Extension Agent, Forsyth County), Lisa Rayburn (Extension Agent, Onslow County), Inga Meadows (Extension Associate, Plant Pathology Specialist), Amanda Scherer (Postdoctoral Research Scholar, Plant Pathology), and Suzette Sharpe (Research Assistant, Plant Pathology).
Vegetable Production Updates: Overall, there was not a lot to report for this Veggie Call as the weather is still cool and it is still early in the season.
Not seeing too much in terms of disease yet. There are no field tomatoes, but there are cool weather crops in high tunnels in Forsyth County.
A producer in Buncombe County reported black specks on kale (Brassica oleracea sabellica) seedlings and at first glance the symptoms appeared to be caused by disease. However, no signs of a bacterial or fungal pathogen were found and it was determined to be a nutritional disorder. Once the seedlings were transplanted, the young leaves were crinkled, and the leaf margin was turned under, although the leaves were green. Two growers who both sourced plants from the same greenhouse have reported these symptoms, but it's unclear what is causing it. The pattern is scattered; not all plants are exhibiting this symptom. A sample was sent to the plant disease clinic.
Phosphorous deficiency in greenhouse tomato seedlings has been observed in Jackson County and Macon County. Phosphorus deficiency is characterized by reduced growth in tomato seedlings and smaller, darker-green (sometimes purplish) leaves (Fig. 1). The producer in Macon County had used old soil for some of the tomato seedlings. Soil pH can drop as the soil ages, which can cause nutrient deficiencies.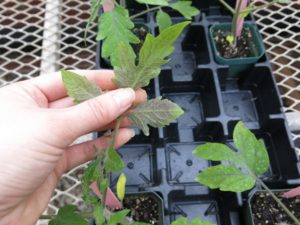 Fig. 1. Phosphorous deficiency in experimental greenhouse tomatoes at MHCREC
(Credit: Dr. Amanda Scherer)
Pest News and other Announcements:
Inga Meadows (Extension Associate, Plant Pathology Specialist): Explained to the group that we plan to publish summaries of the Veggie Calls with important pest information in the NCSU Extension Pest News and will keep track of the names of the attendees to give them credit in the published summaries. These published summaries will be accessible to vegetable producers, ASAs, county extension agents, extension specialists, and researchers with an interest in North Carolina's vegetable production industry.
Amanda Scherer (Postdoctoral Research Scholar, Plant Pathology): Amanda is a new postdoctoral research scholar with Inga Meadows at the Mountain Research Station in Waynesville, NC. Part of her research is to look at the pesticide sensitivities of the bacterial spot and early blight of tomato pathogens.

For bacterial spot, they are focusing on tomato transplant producers and are asking for help from extension agent in collecting greenhouse tomato samples with bacterial spot symptoms.
For early blight, they are focusing efforts on collecting tomato samples with early blight symptoms from commercial fields in North Carolina.
These samples will help provide us with valuable information on how to better advise growers in North Carolina to manage these two diseases. If you are interested or available to help them with this project, then they can send shipping labels and simple instructions for collecting samples.

Please contact Amanda (

alstraye@ncsu.edu

) or Inga (

inga_meadows@ncsu.edu

) for more information.