About
The Vegetable Growers Information Portal was developed to bring together all the resources pertaining to production, management and marketing of tomatoes that a grower will need to be successful.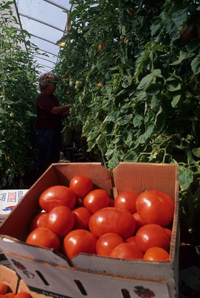 Extension agents and growers can find research-based information specific to North Carolina vegetable production on this site, whether the information originated in the Department of Horticultural Science, Agricultural and Resource Economics, Plant Pathology, Entomology, Biological and Agricultural Engineering or the State Climate Office. Success in agriculture requires a multidisciplinary approach. The goal in designing information portals is to save growers and Extension agents time and effort by creating a one-stop shop for a specific agricultural commodity.
In addition to faculty contributions, this site will include feature articles about growers and industry representatives sharing their own experiences. New growers will find resources specific to start-up, while new and experienced growers will recognize the convenience of the weather/climate links.
When a question about tomatoes comes to mind there's no need to go globetrotting across the Internet; one stop at the Vegetable Growers Information Portal will provide the answer.
---
Don't miss the other Growers Information Portals!
Blackberry and Raspberry Growers Information Portal
Blueberry Growers Information Portal
Was the information on this page helpful?
Care to tell us why? Send Explanation